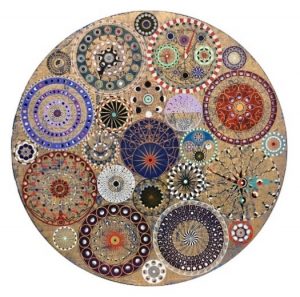 The world in which we live is like a stage and we are performing the drama of existence with our lives … The circumstances, contexts, time, society, nature and universe are the strings that rule our lives. The only things we can do among all these things are wishing and dreaming, creating our own little space of personal destiny.
― Carlos Estévez
TITLE. Carlos Estévez: Cities of the Mind
 SYNOPSIS. Cuban-born, Miami-based artist Carlos Estévez (b. 1969) is known for creating captivating, thought-provoking works in a wide range of media that poetically evoke and express the complexities of the human condition as well as the universal truths that shape our lives. These characteristics and qualities are exemplified in Estévez's most recent series, Cities of the Mind. The nine paintings in this series (which were all created between 2017 and 2019) speak to humanity's fundamental urge to imbue our surroundings with structure and meaning. These works equally address the extremely complicated inner lives that mark the human condition as well as our proclivity for experiencing and interpreting the world through a self-referential lens.
Carlos Estévez's work is held in a number of notable public collections, including the National Museum of Fine Arts, Havana; the Museum of Fine Art, Boston; the Pérez Art Museum Miami; the Lowe Art Museum; the Tucson Museum of Art; the Denver Art Museum; the Bronx Museum of the Arts; the Museum of Latin American Art (MOLAA); and the Ludwig Forum for International Art, among others. Estévez's honors include an Oscar B. Cintas Fellowship (2019); a Joan Mitchell Foundation Painters & Sculptors Grant (2015); and the Grand Prize in the First Salon of Contemporary Cuban Art in Havana (1995). He has completed artist residencies at Academia de San Carlos, UNAM, Mexico; Gasworks Studios, London, England; The UNESCO-ASCHBERG in The Nordic Artists' Center in Dale, Norway; Art-OMI Foundation, New York; The Massachusetts College of Art, Boston; Cité Internationale des Arts, Paris; Montclair University, New Jersey; Siena Art Institute, Italy; and the McColl Center in Charlotte, NC. To date, three monographs have been published on his work: Carlos Estévez: Entelechy (Tucson Museum of Art, 2019); Carlos Estevez: Bottles to the Sea (SUNY Press, 2015); and Images of Thought: Philosophical Interpretations of Carlos Estévez's Art (SUNY Press, 2009).
ORGANIZING VENUE. Lowe Art Museum (University of Miami), Coral Gables, FL
AVAILABILITY. June 2020 – December 2021 (standard bookings are for 12 weeks; longer reservations will be assessed an additional, prorated fee).
CONTENTS. Nine large-scale watercolor pencil and oil paintings on unprimed canvas.
MATERIALS. Jump drive with formatted introductory wall text copy, extended labels, and nine high-resolution digital images (together with relevant captions/credits) for Marketing/PR purposes.
 CATALOGUE. Fully illustrated 40-page bilingual catalogue featuring Carlos Estévez's artist statement and essays contributed by guest curator Dr. Carol Damian and Lowe Director & Chief Curator Dr. Jill Deupi. Six complimentary copies will be made available to each participating venue. All additional copies must be purchased in increments of twenty and will be invoiced a $15 per copy.
 SPACE REQUIREMENTS. Approximately 2,000 square feet and 72 linear feet. Wall space must be tall enough to accommodate paintings up to 108 inches in height.
SECURITY. Moderate.
 PARTICIPATION FEEs. $15,000 for a 12-week rental. Additionally, borrower is responsible for one-way inbound shipping and wall-to-wall insurance. All programming, marketing, PR, and other ancillary costs and fees are the sole responsibility of participating venues.
CONTACT.   Eugenia Incer (eli2@miami.edu or 305.285.5423)
Assistant Director for Collections & Exhibition Services
Lowe Art Museum (University of Miami)
IMAGE CREDIT/ TITLE PAGE: Carlos Estévez (b.1969), Visión interna del espacio exterior (Inner Vision of the Outer Space), 2017, oil and watercolor pencil on canvas, 96 inches (diameter)

CHECKLIST
All works by Carlos Estévez. All images courtesy of the artist.
1
Visión externa del mundo interior (External Vision of the Inner World), 2017

Oil and watercolor pencil on canvas

96 in. (243.8 cm) diameter

2
Visión interna del espacio exterior (Inner Vision of the Outer Space), 2017

Oil and watercolor pencil on canvas

96 in. (243.8 cm) diameter

3
Citadel, 2017

Oil and watercolor pencil on canvas

88 × 88 in. (223.5 × 223.5 cm)

4
Ciudad celeste (Celestial City), 2017

Oil and watercolor pencil on canvas

88 × 88 in. (223.5 × 223.5 cm)

5
Ciudad reloj (Clock City), 2018

Oil and watercolor pencil on canvas

96 × 96 in. (243.8 × 243.8 cm)

6
Ciudad imaginable (Imaginable City), 2018

Oil and watercolor pencil on canvas

96 × 96 in. (243.8 × 243.8 cm)

7
Thera, 2018

Oil and watercolor pencil on canvas

88 × 88 in. (223.5 × 223.5 cm)

8
Sanctuary City, 2019

Oil and watercolor pencil on canvas

108 × 108 in. (274.3 × 274.3 cm)

9
Savanah, 2019

Oil and watercolor pencil on canvas

108 × 108 in. (274.3 × 274.3 cm)