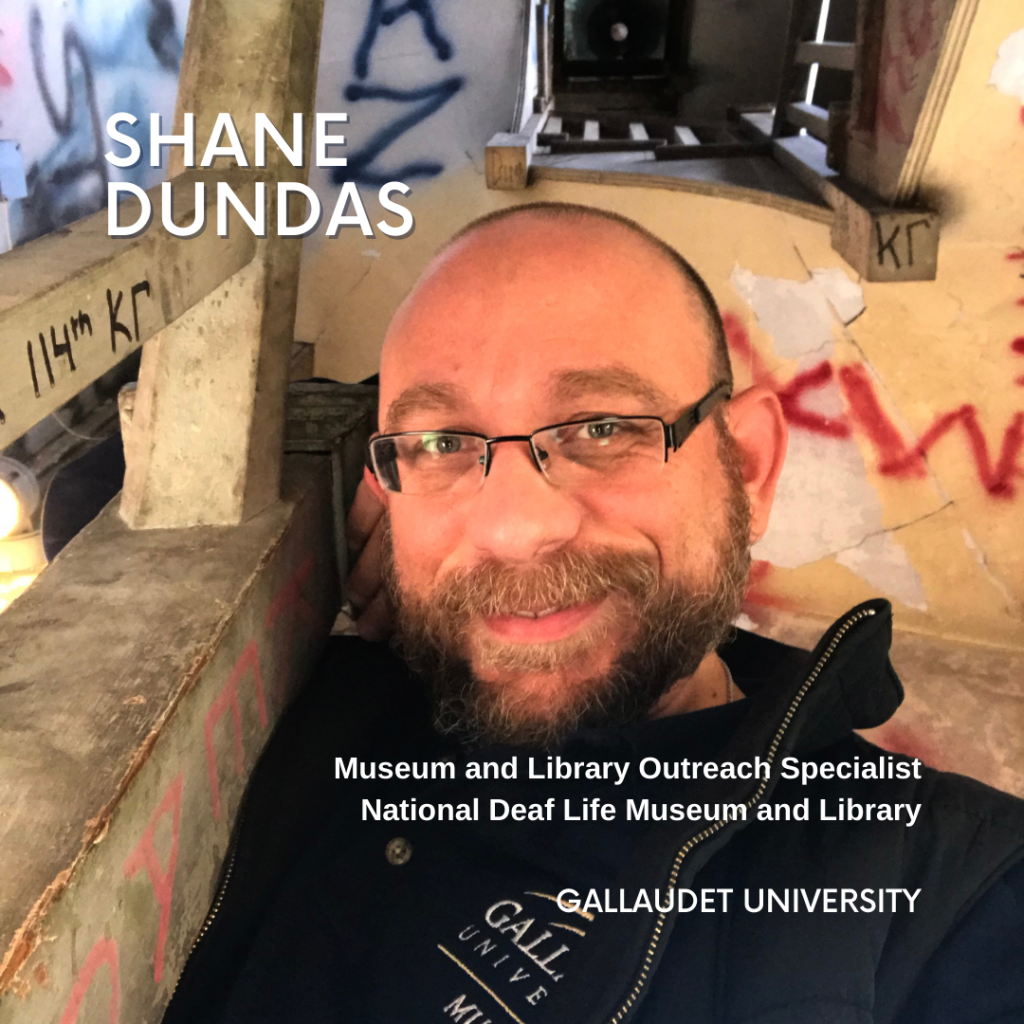 Shane Dundas is the Museum and Library Outreach Specialist for the National Deaf Life Museum and Library at Gallaudet University. Thank you Shane for your membership and sharing your time with us!
What's one thing — either industry/work-related or not — you learned in the past month?
When we look at a historical story or photo, we always look at it with a new angle each time – it's the same as re-discovering the same story or photo each time, which brings good feelings.

If you could trade places with anyone for a day, who would it be?
I would have loved to trade places with President Abraham Lincoln on April 8, 1864, the day he signed a charter to establish what is now called Gallaudet University to ensure that Deaf Americans would be able to receive college education and degrees. In the midst of the Civil War – I've wonder what he was thinking when he signed it – as well as what his thoughts were about other issues including the emancipation of the slaves – why were there conflicting stories about him – and try to understand his complicated mind. Fascinating man.

Coffee or Tea?
Tea

Book/Author suggestion?
The next book I hope to read: Stamped From The Beginning: The Definitive History of Racist Ideas in America by Dr. Ibram X. Kendi.

What did you want to be when you were growing up?
A veterinarian, but later I turned out to be a third generation broadcaster as a television producer then later went into the world of Deaf Studies that led me to the Museum. Museums and television aren't that much different, are they? Except that I have a huge passion for Deaf History and many other intersectional deaf histories.

What do you enjoy most about being a part of an academic museum?
Whenever I give museum tours as a docent, one of things I enjoy most is seeing the passion in the eyes of students when they learn more about Deaf History, which helps them know more about themselves and the world around them.

What are your hopes for our industry?
I'd like to see more universities see the huge value and benefit of having academic museums that also serve the communities at large. Some universities do and some don't. I love this quote by the AAMG: "Great Universities have Great Museums." How very TRUE! Our university recognizes that there should be a place for stories – especially untold stories – from the past, present, and to come through our exhibitions and programs, so we are fortunate to have that place, which is called the National Deaf Life Museum.

Bonus: Do you have a favorite joke to share?
It never hurts to share a corny joke that makes people smile. Q: What's red, white, and red all over? A: An embarrassed zebra.
Note from Shane: Let me tell you the background of the photo – I am standing inside of the Tower Clock at the Chapel Hall at Gallaudet University. The graffiti is done by mischievous students as a part of the forbidden "time honored tradition" as a way to say they were there.