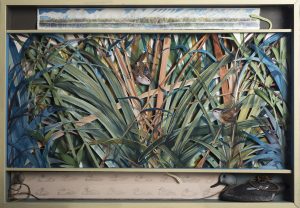 The Halsey Institute of Contemporary Art is pleased to announce a new traveling exhibition entitled The Image Hunter: On the Trail of John James Audubon<http://halsey.cofc.edu/travel-exhibitions/the-image-hunter-on-the-trail-of-john-james-audubon/>, featuring the work of Italian artist Hitnes.
In late 2015, Italian artist Hitnes embarked on a twenty-city road trip throughout the United States with the goal of retracing the endeavors of John James Audubon in the 19th century. Audubon's ambitious goal was to document all of the birds in the country. These well-known drawings made up his book The Birds in America. Captivated by the enormous scope of Audubon's goal, Hitnes traveled across the country, aiming to cover in three months what Audubon did in as many decades. Hitnes's journey on one hand allowed him to explore the state of the birds nearly two centuries after Audubon encountered them. But it also became an all-encompassing performance project in which he gathered materials and made sketches, created public murals, and documented his interactions with a wide range of Americans in video.
Hitnes<http://www.hitnes.org/>'s exhibition documents his journey, elaborating on what it is that drives a person to dedicate multiple decades of their life to pursuing an obsession like Audubon did. The exhibition features a range of work informed by his own expedition, and he includes other objects and ephemera collected on his trek.
Take a peek…
The exhibition is accompanied by the premiere of a feature-length documentary film on Hitnes's journey, directed by filmmaker Giacomo Agnetti.
Watch the documentary preview here https://vimeo.com/275077018.
THE IMAGE HUNTER: ON THE TRAIL OF JOHN JAMES AUDUBON is available for eight week tours for a $6,500 participation fee plus one-way shipping.
Number of Works: 15 Shadow Boxes, 45 Miniature Etchings, 1 Book of Miniature Etchings, 5 Artist Sketchbooks, Project Paraphernalia
Dimensions: Varied
Space Requirement: 2,500 square feet
Participation Fee: $6,500 for eight week bookings
Shipping Costs: Venue pays for incoming shipping
Insurance: To be carried by venue
Exhibition Signage: Label and wall text information in digital format
Supporting materials: Feature-length documentary film, short video about the artist, 300 copies of the exhibition educational brochure
Programming: Artist is available for educational programming and public art mural projects at an additional cost.
Available beginning mid-October 2018
Download the exhibition prospectus:
http://halsey.cofc.edu/wp-content/uploads/2018/05/hitnes-traveling-exhibition-prospectus.pdf
To see more, please visit the traveling exhibition's website:
http://halsey.cofc.edu/travel-exhibitions/the-image-hunter-on-the-trail-of-john-james-audubon/
The Image Hunter: On the Trail of John James Audubon will be exhibited at the Halsey Institute of Contemporary Art<http://halsey.cofc.edu/> in Charleston, South Carolina August 17 – September 29, 2018.
To learn more about the exhibition and tour availability, please contact:
Katie McCampbell Hirsch
Curator & Director of Strategic Partnerships
Halsey Institute of Contemporary Art
mccampbellkg@cofc.edu<mailto:mccampbellkg@cofc.edu>
843.953.6626