AAMG is pleased to announce
Sanchita Balachandran
as a 2020 Keynote Speaker!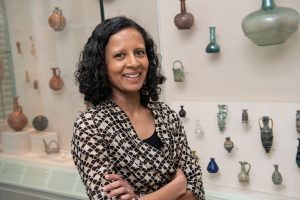 Sanchita Balachandran is Associate Director of the Johns Hopkins Archaeological Museum and Senior Lecturer in the Department of Near Eastern Studies at Johns Hopkins University. In her current role, she conducts research of the Archaeological Museum's collection and teaches courses related to the technical study and analysis of ancient objects, and the history, ethics and practice of art conservation. A recent project "Who Am I? Remembering the Dead Through Facial Reconstruction" sought to rehumanize two ancient Egyptian women whose remains are in the Museum's care through the collaborative and collective work of forensic artists and scientists, medical and technical imaging specialists, art conservators, Egyptologists, osteologists, and graduate and undergraduate students. Recent interdisciplinary and interactive courses using the Archaeological Museum's collection have included "Recreating Ancient Greek Ceramics," which resulted in the production of a short film "Mysteries of the Kylix," a freshman seminar on "Roman Egyptian Mummy Portraits," as well as the courses "Critical Issues in Art Conservation" and "Ancient Color: The Technologies and Meanings of Color in Antiquity." Balachandran received her graduate training as a conservator specializing in archaeological materials at the Institute of Fine Arts, New York University. She is currently pursuing a doctorate in Preservation Studies at the University of Delaware; her research focuses on uncovering the diverse identities of the ancient potters and painters producing ceramics in ancient Athens in the 6th to 4th centuries BCE by studying the objects they produced using experimental archaeological approaches, sensory observations of the production process, and Reflectance Transformation Imaging of the drawings still present on these surfaces. She is a Fellow of the American Institute for Conservation of Historic and Artistic Works. In her free time, Balachandran is at work on a mystery novel featuring a woman potter-sleuth in ancient Athens.
AAMG is pleased to announce
Holland Cotter
as a 2020 Keynote Speaker!
Long-time champion of academic museums, Holland Cotter is co-chief art critic and a senior writer at the New York Times. He has received the Pulitzer Prize for Criticism, the Distinguished Lifetime Achievement Award for Writing on Art from the College Art Association, and the inaugural award for Excellence in Criticism from the International Association of Art Critics. He has been a Poynter Fellow in Journalism at Yale University, and an Alain LeRoy Locke lecturer at the W.E.B. Du Bois Institute for African and African American Research at Harvard University. He is a Fellow of the American Academy of Arts and Sciences. Cotter has an A.B. from Harvard College; an M.A. from Hunter College of the City University of New York, and an M.Phil. from Columbia University. For many years he was a contributing editor to Art in America, and an editorial associate of Art News.
Many may remember Cotter's advocacy for academic museums during the Great Recession in the late 2000s in which he used his platform to shed light on the unique and important place of academic museums and collections to American culture amid threats to the unethical deaccessioning of collections as fungible assets to support colleges' and universities' budgets. With this year's conference theme — "Risk and Bravery: Academic Museums Respond" — Cotter will reflect on the special place academic museums of natural history and art have had in his own formative years and consider the role they play in today's cultural climate.