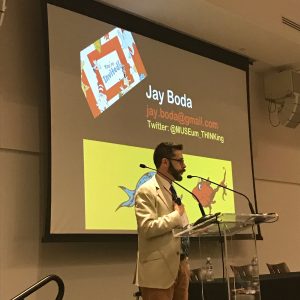 The AAMG Annual Conference attracts over 350 museum professionals from art, science, anthropology, and history to a university campus each summer. Ample opportunity exists for undergraduate and graduate students to present their research, network with museum professionals, attend workshops and professional development sessions, and even have a little fun, too.
Undergraduate students are strongly encouraged to submit poster presentations and throwdowns (5-minute powerpoint style presentations). Graduate students may want to consider a traditional panel presentation or perhaps a roundtable, but are certainly welcome to submit in the previously mentioned formats as well. The annual "call for proposals" is released each fall and can be found under the "Annual Conference" menu on the AAMG website. Past Annual Conference programs can also be found by clicking here.
Questions? Contact aacademicmg[at]gmail[dot]com.