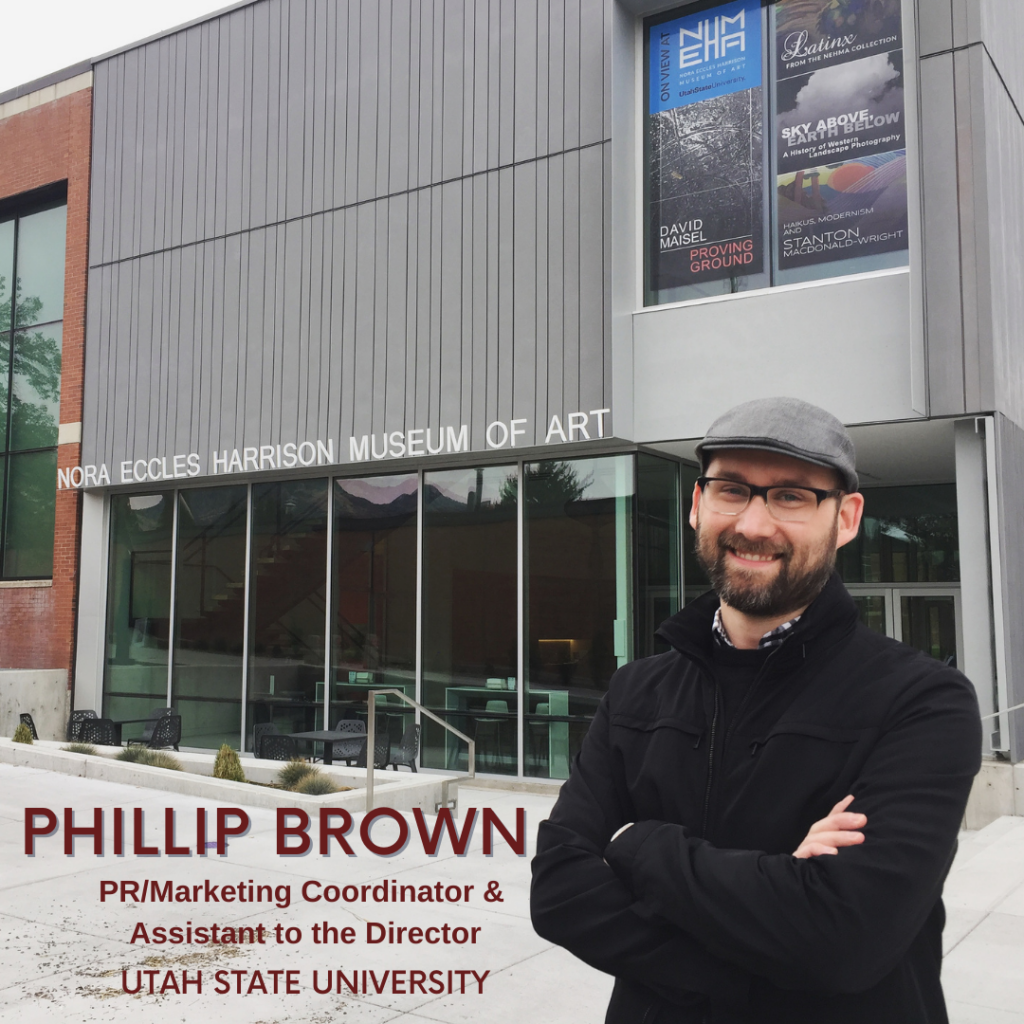 Phillip Brown is the PR/Marketing Coordinator & Assistant to the Director for the Nora Eccles Harrison Museum of Art at Utah State University. He was one of AAMG's tech support volunteers helping to make #AAMG2021 a success this past June. Thank you, Phillip, for your membership, sharing your time with us, and all your volunteer efforts!
What's one thing – either industry/work related or not – you learned in the past month?
I watched This is a Robbery on Netflix, and I learned all about the art theft at the Isabella Stewart Gardner Museum in 1990 in Boston, which I had somehow never heard about before. Aside from the specific details of the mystery still unsolved, I was fascinated—as I always am—by the way value is ascribed to art, not only in terms of money but also meaning.
If you could trade places with anyone for a day, who would it be?
Ok this might sound strange, but I think it would be interesting to trade places with my husband. To truly know how it feels to be him and have one of his days would give me a lot of helpful empathy and insight into his experience both as a therapist and as a person of color. On a lighter note, he gets very excited about things—and I think it would be fun to reach that level of joy!
Coffee or tea?
Tea, for sure! I really enjoy tea and have been learning more about it as I add to my growing loose-leaf tea collection.
Book/Author suggestion?
I really enjoyed the podcast "The Anthropocene Reviewed" by author John Green, and his essays from the show were recently published as a book with the same title. Thought-provoking, educational (so many fascinating facts!), and often very moving—would give it 5 stars.
What did you want to be when you were growing up?
At one point, I wanted to be an artist. At another, a marine biologist. (Really, I'm still figuring out what I'd like to be when I grow up…)
What do you enjoy most about being a part of an academic museum?
Some museums or galleries can feel a little elitist—especially in the world of modern and contemporary art like we have here at NEHMA—and what I love about academic museums is how they, instead, have a strong desire to educate and connect with everyday people from the community. It brings the art world a little more in reach. I handle our communications, and I think it's a fun challenge to help people feel excited about contemporary art.
What are your hopes for our industry?
I hope we can keep bringing awareness to important contexts and biases in our collections, that our academic museums can be examples of critical thinking, nuance, and transparency. I see the important work taking place at so many institutions as they grapple with their respective histories and look forward to what their futures might be. I think academic museums are uniquely positioned as places where visitors can look, learn, and engage with new ways of thinking. With that comes a responsibility in how we curate and present material, and I hope that our industry will continue to rise to the challenge.