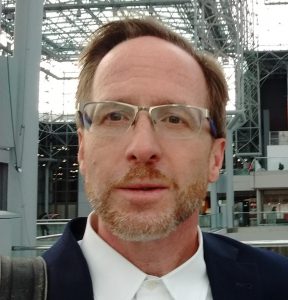 As a high school student in the mid-1970s, I developed a keen interest and early professional training in photography, graphics arts, design, and printing. 40 years and later, I remain devoted to communicating ideas through the display and interpretation of visual materials in exhibitions and illustrated books.
In 1983, I entered the BFA design/photography program at the University of Washington (Seattle). At this time, I was employed as a studio photographer for AIMEX, then the nation's largest exhibition design firm. It was there that I learned that exhibitions were "constructed"— physically and curatorially. After obtaining my BA at the University of Washington (1985), I earned a Ph.D. in art history at Rutgers University (1999) in Italian gothic art and architecture. While attending to my graduate work in medieval Italian art, I was the curator and registrar for the corporate art collections at Johnson & Johnson, Inc., where I was responsible for managing the corporation's prints and producing exhibitions for the company's headquarters and regional centers.
In 1996, I was appointed art historian and museum director at Juniata College. During my six years at Juniata, I developed the museum's collections, transformed the college's beaux-arts Carnegie Library into the Juniata College Museum of Art, and founded the college's museums studies program.
In 2003, I was appointed director of The Trout Gallery, the art museum at Dickinson College, where I have increased the museum's collections, architectural footprint, endowment, and curatorial reputation. In 2009 the College Arts Association (CAA) awarded my book A Kiowa's Odyssey: A Sketchbook from Fort Marion the Alfred H. Barr Jr. Book Award for the outstanding art museum catalogue of the year. In 2020, CAA awarded Shan Goshorn: Revisting the Mission catalogue an honorable mention for the Barr Book Award. Curatorial projects of note include exhibitions by contemporary women artists Grace Hartigan, Joyce Kozloff, Sue Coe, and Shan Goshorn. Beginning in 2009, I spearheaded a complete reworking of the museum's mission/vision as well as a fundamental restructuring of its administration. I am presently working on the museum's first strategic plan as well as policy and procedural documents for all four of the museum's majors sectors (collections, exhibitions, education, administration).
In 2022, Swarthmore College brought me on as a consultant regarding its collections for a six month term.
I have participated in executive leadership programs at the Getty Museum (2011) and the AAMG/Kellogg School of Business (2012). I am an active IMLS/CAP, AAM, AAMG, peer reviewer for academic museums nationwide and the Mid-Atalatnic representative for AAMG. I served as book award juror and chair for CAA's Alfred Barr Jr. Award.
I research and publish journal articles and books on late medieval art and architecture in Italy; the history of photography, and Native American ledger drawings and photographs associated with Fort Marion (St. Augustine, Florida) in the 1870s and the Carlisle Indian School.
Board Member Monday Interview:
What about your museum excites you?
Organizing exhibitions: there's always that singular moment when the fear of public failure gives way to the promise of success; when everyone and everything (finally) comes together perfectly and you know it's going to work–even better than imagined. That's a great day. And on those days when all seems hopeless and nothing works, I open the door to storage and turn to the collections. They are a never-ending source of inspiration. It's always a thrill to open a box of drawings, watercolors, or prints. Each sheet is a passage elsewhere. An hour with a box of drawings and the world seems manageable again.
What's one thing — either industry/work-related or not — you learned in the past month?
Objects are not good at organizing themselves.
What about the AAMG mission excites you?
Making the profession as exciting and rewarding for the next generation as its been for me.
How do you decompress from tough work days?
Scotch.
Print or audio books?
Recently…"The King's Painter: The Life and Times of Hans Holbein" (Moyel); Sapiens: A Brief History of Humankind (Harari).