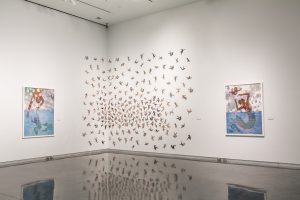 Katrina Andry: The Promise of the Rainbow Never Came
Organized by the LSU Museum of Art
https://bit.ly/2LdHBzN
Exhibition:
Katrina Andry: The Promise of the Rainbow Never Came includes eight large-scale color reduction prints and a site-specific installation. The exhibition reflects on the lives lost—the lives violently erased—during the Middle Passage.
While millions of enslaved Africans were forced to undertake the Middle Passage between Africa and the Americas, millions of those who began the journey did not complete the passage. Instead, they were thrown overboard en route. People with fevers or unexplained illnesses, those recently born, those who died, and those who rebelled or resisted, were cast overboard.
Katrina Andry's prints depict the people thrown overboard. The figures, transitioning from human to eel form, are almost monstrous or beastly in their hybrid state. Andry's anthropomorphic depictions point to the history of dehumanizing representations of black people. Her half human-half eel forms suggest the continuity of color-based violence for descendants of those who survived the Middle Passage. Falling raindrops reference the promise of the rainbow—the promise to never again be destroyed by water. For Andry, the rainbow's unfulfilled promise aligns with a reality in which black people are still treated as less than fully human.
Artist:
Katrina Andry holds an MFA in Printmaking from Louisiana State University. She lives and maintains a studio in New Orleans. Most recently Andry was one of seven artists included in New Orleans Museum of Art's Changing Course: Reflections on New Orleans Histories, an exhibition reconsidering New Orleans upon the city's tricentennial. Andry was listed in the January-February 2012 issue of Art in Print as one of the top 50 printmakers. Katrina is an active member of the Staple Goods Collective in the St. Roch neighborhood of New Orleans. She has also been awarded residencies from the Joan Mitchell Center of New Orleans, Anchor Graphics in Chicago, and Kala Art Institute in Berkeley, California.
Specifications:
8 prints, one installation
Requires 110 linear feet
Participation fee of $6,500
Available for periods of 10–12 weeks, August 2019–December 2022
LSU Museum of Art makes all shipping arrangements, exhibitor pays shipping costs
Contact:
Courtney Taylor, Curator
225-389-7205