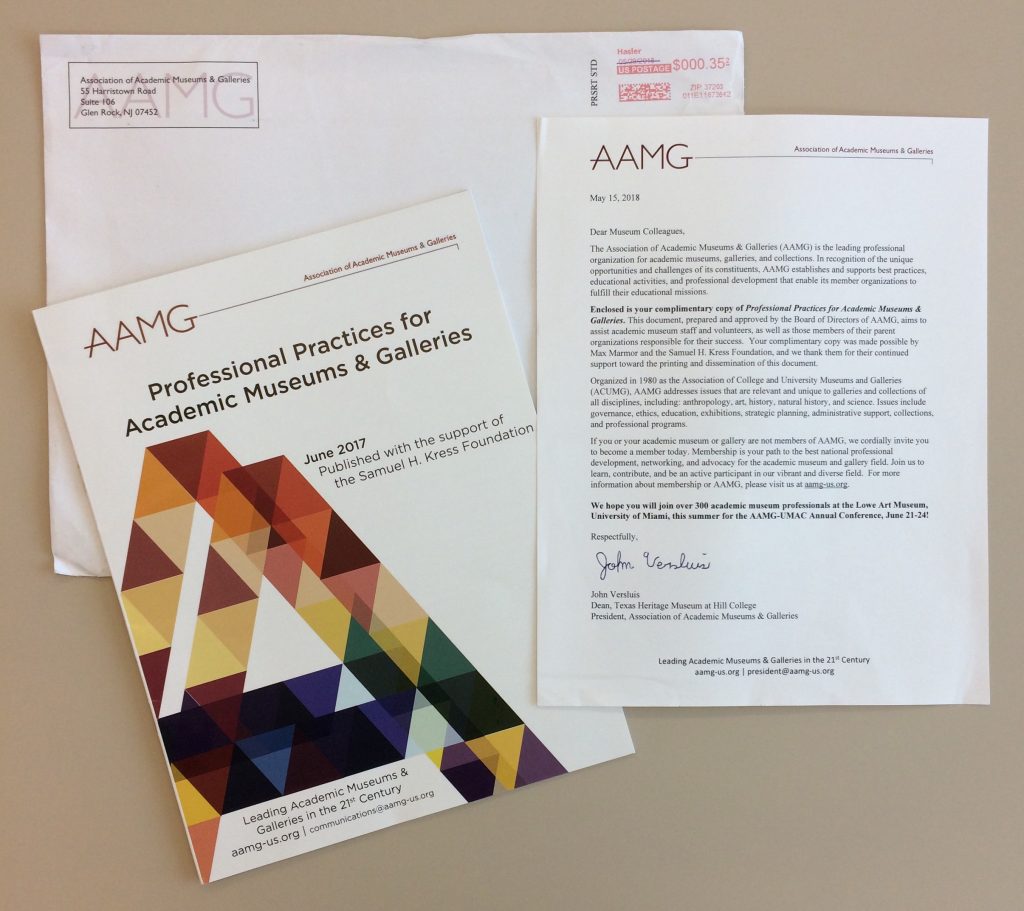 May 15, 2018
Dear Museum Colleagues,
The Association of Academic Museums & Galleries (AAMG) is the leading professional organization for academic museums, galleries, and collections. In recognition of the unique opportunities and challenges of its constituents, AAMG establishes and supports best practices, educational activities, and professional development that enable its member organizations to fulfill their educational missions.
Enclosed is your complimentary copy of Professional Practices for Academic Museums & Galleries. This document, prepared and approved by the Board of Directors of AAMG, aims to assist academic museum staff and volunteers, as well as those members of their parent organizations responsible for their success.  Your complimentary copy was made possible by Max Marmor and the Samuel H. Kress Foundation, and we thank them for their continued support toward the printing and dissemination of this document.
Organized in 1980 as the Association of College and University Museums and Galleries (ACUMG), AAMG addresses issues that are relevant and unique to galleries and collections of all disciplines, including: anthropology, art, history, natural history, and science. Issues include governance, ethics, education, exhibitions, strategic planning, administrative support, collections, and professional programs.
If you or your academic museum or gallery are not members of AAMG, we cordially invite you to become a member today. Membership is your path to the best national professional development, networking, and advocacy for the academic museum and gallery field. Join us to learn, contribute, and be an active participant in our vibrant and diverse field.  For more information about membership or AAMG, please visit us at aamg-us.org.
We hope you will join over 300 academic museum professionals at the Lowe Art Museum, University of Miami, this summer for the AAMG-UMAC Annual Conference, June 21-24!
Respectfully,
John Versluis
Dean, Texas Heritage Museum at Hill College
President, Association of Academic Museums & Galleries