AAMG's Conference Committee is pleased to announce
Dread Scott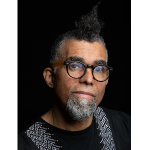 AAMG's Conference Committee is very pleased to announce that contemporary artist Dread Scott will present the closing keynote for the June 7-11 annual conference.
Dread Scott has exhibited and performed at numerous institutions, including the Whitney Museum of American Art, the Contemporary Art Museum Houston, MoMA P.S.1, the Walker Art Center and BAM (Brooklyn Academy of Music) and has been written about in numerous publications including The New York Times, Art In America, ArtNews, ArtForum, Art21 Magazine, The Guardian, and Time. He makes revolutionary art to propel history forward and he uses a wide range of media including performance, photography, screen-printing, video, installation and painting to do so.
Scott has been awarded many grants, fellowships, scholarships, and residencies including awards from the Open Society Foundation and United States Artists. This year he was awarded the Guggenheim Foundation scholarship. Artnet.com site named his performance Slave Rebellion Reenactment (2019) as one of the most important works of the decade. He will deliver his keynote address on Friday, June 11th at 4:00 PM from his current residency with Kadist in Paris. Those wishing to participate must register for the conference.
His thirty-year career is bookended by two very important works.  As a student at the School of the Art Institute of Chicago, his first major work, What Is the Proper Way to Display a U.S. Flag, from 1989, was at the center of a controversy regarding whether his piece resulted in desecration of the American flag. The US Senate censored his work and President Bush declared him "shameful" for his transgressive use of the American flag. Scott would later be one of the defendants in United States v. Eichman, a Supreme Court case in which it was eventually decided that federal laws banning flag desecration, which had been passed during the Bush administration, were unconstitutional.
In late 2019, he mounted a major and widely reported performative work entitled Slave Rebellion Reenactment, a conceptual community-engaged artwork that reenacted the largest rebellion of enslaved people in American history. Artnet.com named it one of the most important works of the decade. After years of planning and research, he and a team of volunteers re-staged and reinterpreted Louisiana's German Coast Uprising of 1811, involving hundreds of re-enactors on the outskirts of New Orleans, in the same locations where the 1811 rebellion occurred.
Scott will share a brief survey of his major works and provide insights into how Equity and Wellness, the theme of AAMG's 2021 annual conference, might emerge in academic museum and gallery contexts around the country as we grapple with the aftermath of a pandemic and embrace an overdue reckoning with race.
For those wishing to participate, you must be registered for the conference and can do so at any time here: https://www.aamg-us.org/registration2021/