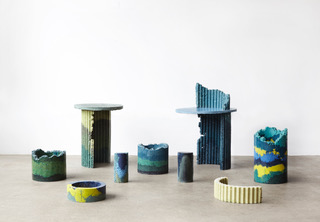 Design Transfigured explores an exciting fresh phenomenon in design, an extreme and inventive approach to recycling that we are calling Transfiguration because of the radical transformations designers are instigating.  The 29 designers/studios from around the world whose works are brought together in this exhibition take waste — from manufacturing and agriculture, from coal, sulfur and water systems  — and give these pollutants new forms that are handsome, useful and provocative. They harness material science, biology,chemistry and their own fertile minds to create their transfigurations which can be sorted into three categories: Furniture/Furnishings: vessels and furniture; The Closet: fashion and accessories; The Built Environment: building materials. (http://www.curatorsquared.com/design-transfigured/)
Designers under consideration:
Kosuke Araki, Japan
Simón Ballen, Colombia
Bentu, China
Oksana Bondar, United Kingdom
Jesper Eriksson, United Kingdom
Kelly Maj Gijsen, Netherlands
Fransje Gimbrere, Netherlands
Kodai Iwamoto, Japan
Charlotte Kidger, United Kingdom
Sinae Kim, United Kingdom
Dirk Vander Kooij, Netherlands
Agne Kucerenkaite, Netherlands
Fernando Laposse, Mexico/Great Britain
Malai, India
Christien Meindertsma, Netherlands
Dan Peterman, United States
Alice Potts, United Kingdom
Phoebe Quare, United Kingdom
Recycled Island Foundation, Netherlands
Daan Roosegaarde, Netherlands
Mayya Saliba, Belgium/Carmen Hijosa, Spain/United Kingdom
Studio Formafantasma, Italy/Netherlands
Studio Nienke Hoogvliet, Netherlands
Studio Swine, United Kingdom
Universidad del Istmo, Guatemala
Mi Zhang, China

Curators: c2, a curatorial partnership between Ginger Gregg Duggan and Judith Hoos Fox,
develops exhibitions of international, cross-media contemporary art and design that
explore current issues in culture.
Space: 3-4,000 square feet
Schedule:      Georgetown University Art Galleries        September – December, 2019
                        Washington, D.C.
                        AVAILABLE                                          January – April, 2020
                        AVAILABLE                                          May – August, 2020
                        AVAILABLE                                          Fall 2020
Contents: textiles, furniture, vessels, fashion items, video
Provided: exhibition signage including labels provided in digital form
Participation fee: $20,000 for twelve weeks (additional weeks pro-rated) plus transportation and insurance
Contact: