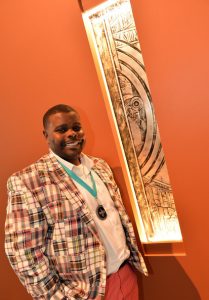 Jamaal B. Sheats, MFA is the Director and Curator of the Fisk University Galleries and Assistant Professor in the Fisk University Art Department.  Sheats has simultaneously maintained a strong and consistent exhibition record for nearly 15 years in galleries across the nation and abroad.  Most recently, he curated and Carl Van Vechten: Depth of Field Selections from the Fisk University Galleries and the John Hope and Aurelia E. Franklin Library Collection; Origins of Influence: The Alfred Stieglitz Collection of Modern Art exhibition at the Carl Van Vechten Art Gallery at Fisk University; and completed a commission for the National Museum of African American Music. In 2015, he curated the Topography exhibit at Tinney Contemporary Art Gallery in Nashville, Tennessee. He was commissioned to create Eight Octives for Music City Center in 2013. In additon to his appointments at Fisk, active art-making, exhibitions, and curatorial projects, Sheats is the owner of Sheats Repoussé and the Charlotte Art Project, and continues to receive accolades for his work. In 2016 his Origins of Influence: The Alfred Stieglitz Collection of Modern Art  and Topography exhibitions were voted by the editors of the Nashville Scene as "Best Art Comeback" and "Best Group Exhibit," respectively. He has also been featured in the Boston Globe, New York Times, Numbers, and Nashville Arts Magazine, as well as several other arts journals, newspapers and magazines.
To support his commitment to the arts and art education, he is active in the arts community and holds positions on the Frist Center for the Arts Education Council, the "To Share a Legacy" HBCU Alliance, the Nashville Conference on African-American History Culture planning committee,  "Plan to Play" Steering Committee for the Metro Parks and  Recreation, and is a board member of the Arts and Business Council.
Jamaal B. Sheats, MFA obtained his Bachelor of Arts degree in Art from Fisk University and a Master of Fine Arts degree with a concentration in Studio Art from the School of the Museum of Fine Art (SMFA)-Boston and Tufts University. He completed a postgraduate Teaching Fellowship at SMFA-Boston and Tufts University, as well as a Teaching Artist-in-Residence at the Nashville Public Library.