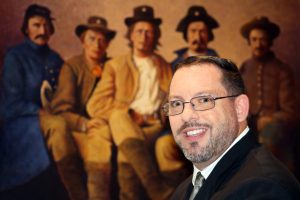 John Versluis is the Dean of the Texas Heritage Museum at Hill College, Hillsboro, Texas and has spearheaded the museum since 2005. John oversees three separate divisions: the Texas Heritage Museum Galleries & Collection, the Historical Research Center, and the Hill College Press.
He served as the Director of the Greater Southwest Historical Museum, in Ardmore, Oklahoma, from 2003-2005, and the Director of the North Platte Valley Museum (currently known as Legacy of the Plains Museum) in Gering, Nebraska from 2000-2003, and received his museum training at New Mexico State University where he earned his MA in American History / Public History Graduate Program in 2000.  At NMSU he became a recipient of the Doña Ana Historical Society Pasajero Del Camino Real award for co-authoring Historic Architectural Styles Las Cruces, N.M.: Celebrating 150 Years.
Furthermore, at NMSU Versluis served as a Co-Principal Investigator for the Lunar Legacy Project, which is one of the earliest federally grant-funded space archaeological research projects, through the New Mexico Space Grant Consortium in 1999.  NASA funded the Lunar Legacy Project to document the artifacts on the lunar surface at Tranquility Base by the Apollo 11 crew, and to investigate the relevant US Federal preservation laws and regulations.
John earned his BA in history with honors at Western State College of Colorado (currently known as Western State Colorado University) in Gunnison, Colorado, in December 1997.   During his undergraduate studies he made new scholarly discoveries providing further insights into the U.S. intervention into Russia 1918-1920, and continues his research through exhibits and presentations.
At present, John is an active board member of the Association of Academic Museums & Galleries, serves as an American Alliance of Museums MAP Peer Reviewer, and is a consultant for the Bridge Street History Center in Granbury, Texas.
We highlighted John Versluis in our Board Member Monday series on October 17th, 2022. Below you can find our full interview from that series.
What about your museum excited you?
Showcasing artifacts to bring the past back to life.
What's one thing – either industry/work related, or not – you learned in the past month?
I am learning more on transformative learning theory and how to incorporate this more into our museum educational programing
What about the AAMG mission excited you?
Bringing academic museums together and strengthen our field to greater heights.
How do you decompress from tough work days?
Eat a lot of non-dairy ice cream! If it's a really rough day I eat my favorite non-dairy Ben & Jerry's Cherry Garcia ice Cream!
Print or audio books?
Print