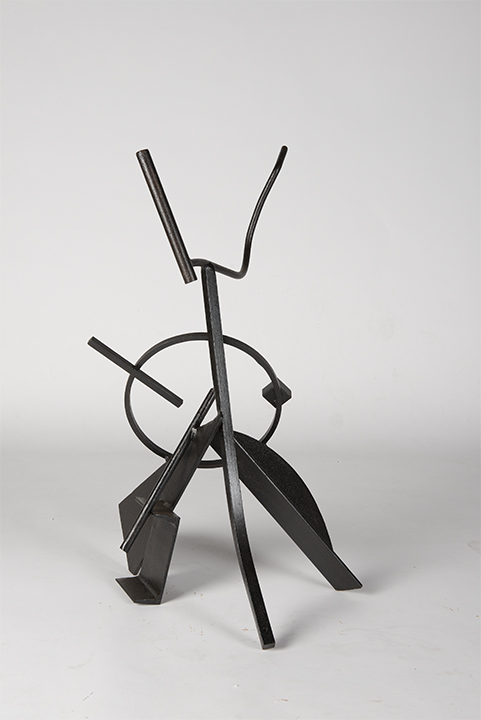 LSU Museum of Art will exhibit the work of Baton Rouge sculptor Martin Payton including one installation and 20 welded steel sculptures.
Broken Time: Sculpture by Martin Payton focuses on Payton's recent work: his sculpture created in the last twenty years represents his most sophisticated improvised compositions. Inspired by New Orleans jazz musicians who maintain African heritage in the form of polyrhythms, chants, and improvisation, Payton maintains the record of use and wear in his material—scrap metal. Payton welds these materials as found, improvising his sparse, lyrical steel sculptures, which are deeply rooted in the modernist tradition. Striking lines, curves, and planes are deepened with nuanced layers of meaning rooted in African symbolism, the African American experience, and jazz.
The project will be accompanied by a fully-illustrated catalog with essays by LSU MOA Curator Courtney Taylor; LSU Professor and Director, African & African American Studies Program, Dr. Joyce Jackson, Southern University retired art historian Eloise Johnson, and New Orleans poet, editor, and music producer Kalamu ya Salaam.
Born in New Orleans in 1948, Martin Payton currently lives and maintains a studio in Baton Rouge. Payton was a professor of art at Southern University from 1990 until retirement in 2010. He received his BFA from Xavier University and his MFA from Otis Art Institute in Los Angeles. Payton's work is held in the permanent collections of NOMA, the Amistad Research Center, the William King Regional Arts Center, and the Rosekrans Runnymede Sculpture Garden. In 2002, as part of a collaboration with friend and colleague John T. Scott, Payton constructed the Spirit House, a public art project that celebrated African American contributions to New Orleans by incorporating drawings of area school children into the project.
Number of Works:
One installation and 20 sculptures (variable)
Minimum size:
Variable
Organized by:
LSU Museum of Art
Booking Period:
8–12 week bookings
Availability:
Beginning May 2018
Participation Fee:
$5,000
Shipping:
LSU Museum of Art makes all arrangements,
exhibitors pay pro-rated shipping
Contact:
Courtney Taylor, LSU MOA Curator
cptaylor@lsu.edu
225-389-7205