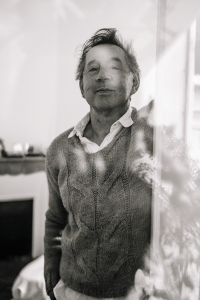 November 1, 2017
Traveling Exhibition
DAVID LAMELAS: A LIFE OF THEIR OWN
Organized by the University Art Museum, California State University Long Beach and MALBA-Museo de Arte Latinoamericano de Buenos Aires, Argentina
Co-curated by María José Herrera and Kristina Newhouse
On view at the UAM, September 17-December 10, 2017
On view at MALBA from March 16-June 11, 2018
Available August 2018
Contact
Kimberli Meyer, Director, University Art Museum
kimberli.meyer@csulb.edu
562-985-7606
"David Lamelas: A Life of Their Own" is the first US monographic exhibition of this Argentine-born pioneer of conceptual art. It reframes customary narratives about conceptual art-makers and their practices in the late 20th and early 21st century, taking cues from Lamelas's creative adaptability to place and circumstance.
Important to understand is the rich artistic context of Argentina in the early to mid 1960s, years during which Lamelas worked extensively in Buenos Aires. A rapid succession of art trends, conceptual frameworks, and exhibition practices radically modified and dominated the city's "porteño" scene. It was stimulated by national economic prosperity and led by influential director of the vanguard Instituto Torcuato Di Tella, Jorge Romero Brest, who was instrumental to Lamelas's participation in the IX Bienal de São Paulo in 1967 and acceptance to the prestigious art program at St. Martin's School of Art in London in 1968.
Lamelas left Argentina to study abroad at St. Martin's School in a fleeting period during the post-Peron phase when the nation was more open to the world. Remaining in Europe through the mid-70s, Lamelas first came the California briefly in 1973 and later established a base in Los Angeles in 1976—although he has always divided his time between the United States, Europe, and Argentina. In his nomadic movement, from one place to another or one conceptual framework to another, each locality and situation has influenced his artistic approach.
Lamelas's sense of creative adaptability extends to his artwork. Since the 1960s, he has expressed an idea that artworks create their own consciousness and should exist free from the limits of their maker and from the field of aesthetics. It is important to him that artworks find their own identity. In this way, they possess a life of their own.
"David Lamelas: A Life of Their Own" is part of the Getty's Pacific Standard Time: LA/LA. Major support for the exhibition and publication is provided through grants from the Getty Foundation. Additional support is provided by The Andy Warhol Foundation for the Visual Arts.
About David Lamelas
Born in Buenos Aires in 1946, David Lamelas studied at the Escuela de Bellas Artes Manuel Belgrano. He entered an emerging vanguard art scene springing from the fertile ground in Buenos Aires. His peers included Alfredo Rodríguez Arias, Oscar Bony, Pablo Mesejean and Delia Cancela, Marta Minujín, and Margarita Paksa, among others. His tenure as a young artist in Argentina culminated with the 1967 Sculpture Prize at the IX Bienal de São Paulo in Brazil. The following year, Lamelas was awarded the British Arts Council Fellowship to study in London.
In 1968, Lamelas was one of three artists representing Argentina at the XXXIV Biennale di Venezia. That same year, he participated in "Beyond Geometry: An Extension of Visual-Artistic Language in Our Time" curated by Jorge Romero Brest of ITDT and co-organized by the Center for Inter-American Relations, that traveled to New York. In Europe, his work was represented by the Belgian gallery Wide White Space at landmark exhibitions of conceptualism, Prospect 68 and 69 in Dusseldorf. In 1969, Lamelas participated in "Konzeption/Conception" in Leverkusen, Germany. In 1970, his work was included in "Information" curated by Kynaston McShine at the Museum of Modern Art and by Seth Siegelaub and Michel Claura for "18 Paris IV. 70." At the time, Catherine Millet identified Lamelas as a central figure of the Art Conceptuel movement for the journal VH 101. In 1997, Lamelas's first major retrospective, "A New Refutation of Time" was exhibited at Kunstverein München and Witte de With Center for Contemporary Art, Rotterdam.
More recently, Lamelas's work has been included in 2016 Tate Britain exhibition, "Conceptual Art in Britain 1964–1979"; the 2015 Whitney Museum of American Art exhibition, "America Is Hard to See"; and the 2015 Museum of Modern Art exhibition, "Transmissions: Art in Eastern Europe and Latin America, 1960-1980". Lamelas's three-channel live digital video, Time as Activity: Live Athens–Berlin (2017) was on view at the Kassel-Wilhelmshöhe train station and the Athens Conservatoire (Odeion) for documenta 14.
Content Details
The exhibition
"David Lamelas: A Life of Their Own" takes the form of large indoor and outdoor sculpture, full-room installations, slide and HD projections, a video/film survey, institutional loans, and historic ephemera. The exhibition requires approximately 4,000 square feet. The checklist may be adjusted per venue to suit the needs and/or space constraints of the respective institution, with guidance from UAM curator Kristina Newhouse.
At the UAM, there are 17 artworks, 12 videos, and approximately 40 objects of ephemera which include:
* Early artworks realized by Lamelas in the mid 1960s, including "El Super Elástico" (1965), "Conexión de tres espacios" (Connection of Three Spaces, 1966), and "Situación de tiempo" (Situation of Time, 1967)
* Situational and conceptual artworks Lamelas realized in Europe in the late 1960s and early 70s such as "Antwerp–Brussels (People + Time)" (1969) and "'Interview' with Marguerite Duras" (1970)
* Experimental narrative, photo-sequences including Lamelas's iconic Rock Star (Character Appropriation) (1974) and The Violent Tapes of 1975 (1975)
* Film and video work by Lamelas as well as from his decades-long collaboration with Los Angeles-based artist, Hildegarde Duane
* Correspondence from artists and art writers who participated in the Lamelas bookwork, "Publication" (1970)
Press language, didactics, and label copy will be provided
Images
A selection of images of artworks and artist portraits is provided for publicity and educational purposes.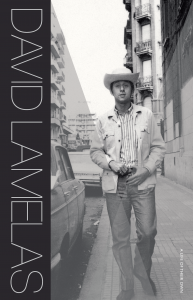 "David Lamelas: A Life of Their Own" catalogue
Hardcover; 264 pages; 8 1/2 x 13 inches; 150 color and 50 b/w illustrations. Retail price: $55.00
The catalogue is published by the University Art Museum, California State University, Long Beach in association with Getty Publications. It includes forewords by UAM Director Kimberli Meyer; Eduardo F. Costantini, President of the Museo de Arte Latinoamericano de Buenos Aires (MALBA); and Agustín Pérez Rubio, Artistic Director of MALBA; curatorial essays by Kristina Newhouse and Maria José Herrera. Catalogue contributors are Alexander Alberro, Valeria González, Inés Katzenstein, Daniel Quiles, Catha Paquette, and Joy Sleeman, with a reprinted interview of Lamelas, "On the Road," by Ian White for Frieze, April 2006. Also included is a recently unpublished interview, "Adolfo Bioy Casares, Germán Gullón, David Lamelas, and Bartomeu Marí in Conversation, Instituto Cervantes, Rotterdam, Netherlands, May 14, 1997."
University Art Museum
California State University Long Beach
1250 Bellflower Boulevard
Long Beach, CA 90840-8401
csulb.edu/university-art-museum
562-985-5761
General inquiry: uam@csulb.edu
About the University Art Museum
The University Art Museum at California State University, Long Beach, creates exhibition and education programs that mine the rich site of the museum's context and present multiple avenues for critically interpreting contemporary and modern art and culture. The museum serves the campus, the Long Beach community, and the greater Los Angeles metropolitan area, and is free and open to the public.