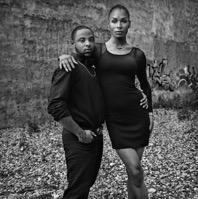 MARK SELIGER
On Christopher Street: Portraits
An Ellis Island for gender identity, New York's Christopher Street is the backdrop, as well as a character in photographer Mark Seliger's latest body of work.
For more than 30 years, Seliger has provided us a deeper dive into the souls of the famous–those we've often seen and thought we already knew.
With On Christopher Street: Transgender Portraits he shows us people who have not been seen enough. Together, they embody the spirit of a legendary New York City place.
In this exhibition, Seliger presents a complex human story through a series of black and white photographs and his recently published book.
Each element stands firmly, elegantly on its own – and each adds a layer of access and intimacy to the story. "The portraits were taken in the heart of Greenwich Village, walking alongside the brave souls who live the realities of one of the biggest civil rights issues of our time," said Seliger. "Their faces are studies of beauty, struggle, passion, and hope."
Mark Seliger is the recipient of multiple awards including: Alfred Eisenstaedt, Lucie, Clio, Cannes Lions and the ASME. As Chief Photographer of Rolling Stone, he produced over 125 covers. His work has appeared in L'Uomo Vogue, Vogue Italia, Elle, Vanity Fair, Harper's Bazaar, Time and GQ Magazine. Seliger lives and works in New York City.
Press Releases:
https://www.nytimes.com/2016/09/29/style/transgender-christopher-street-photography-book-mark-seliger.html?_r=0
http://www.newyorker.com/magazine/2016/08/01/the-trans-community-of-christopher-street
More Information:
Contact Victoria Anstead