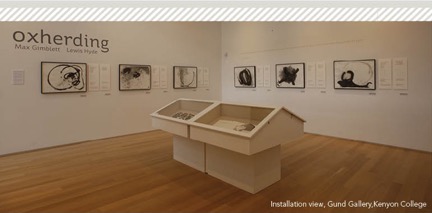 description
– – – – – – – – –
Celebrated New York painter Max Gimblett partners with award-winning author Lewis Hyde for Oxherding: A Buddhist Parable, a fresh, American take on the Ten Oxherding Pictures, a venerated Buddhist parable from 12th-century China. Originally exhibited at Japan Society in New York in the fall of 2010, and at Kenyon College's Graham Gund Gallery in the fall of 2011, oxherding is now available for exhibition in additional venues.
Oxherding is a series of ten sumi-ink paintings by Gimblett, each one matched to a set of letterpress- printed poems in Chinese with three multi-layered English translations by Hyde. It is accompanied by a set of jointly produced artist books. The ten picture/poem vignettes tell the story of an elusive ox and a herder whose quest to find and tame the animal becomes a metaphor for the struggle toward Buddhist enlightenment.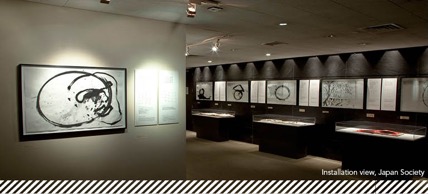 specifications
– – – – – – – – – – –
Curator: Originally curated by Suzanne de Vegh of Japan Society, New York. Ongoing curation by the artists.
Organized by: Originally organized by Japan Society, New York. Ongoing organization by the artists, and toured by the Gund Gallery at Kenyon College.
Number of works: 10 paintings, each accompanied by two text panels, and up to 4 journals = 34 items. The framed paintings measure 33 1/8" wide x 25 1/8" high x 2".
In addition, a set of 4 artist's books created by Gimblett and Hyde over the years spent in the
 creation of oxherding accompany the exhibition. The books' sizes vary but most measure 12" high by 15" wide (and 1" thick); displayed open they measure 30" wide. Casework will be required.
Optional feature: The exhibition may be enhanced by a series of related lectures and/or workshops presented by the artists . Hyde and Gimblett are available to make presentations for additional fees.
Venues:
Japan Society, New York, October 1, 2010-January 16, 2011
Gund Gallery at Kenyon College, October 26, 2011-March 4, 2012
Sullivan Galleries, School of the Art Institute of Chicago, October 3-November 8, 2014
Availability: Available now for flexible timeframes.
Running/square feet: Flexible, approximately 50-75 running/500 square feet.
Security: Moderate.
Fee: $2,000 (4-6 weeks; additional weeks prorated).
Shipping/insurance: One-way shipping will be available when scheduling and venue storage permits, along with wall-to-wall insurance.
Full-length prospectus: Available here.
For more information contact: Robin Goodman, Collections Manager & Registrar, Gund Gallery at Kenyon College, 740-427-5971, goodmanr@kenyon.edu
Image credits from top to bottom:
Installation view, oxherding, Gund Gallery, Kenyon College.
Installation view, oxherding, Japan Society.