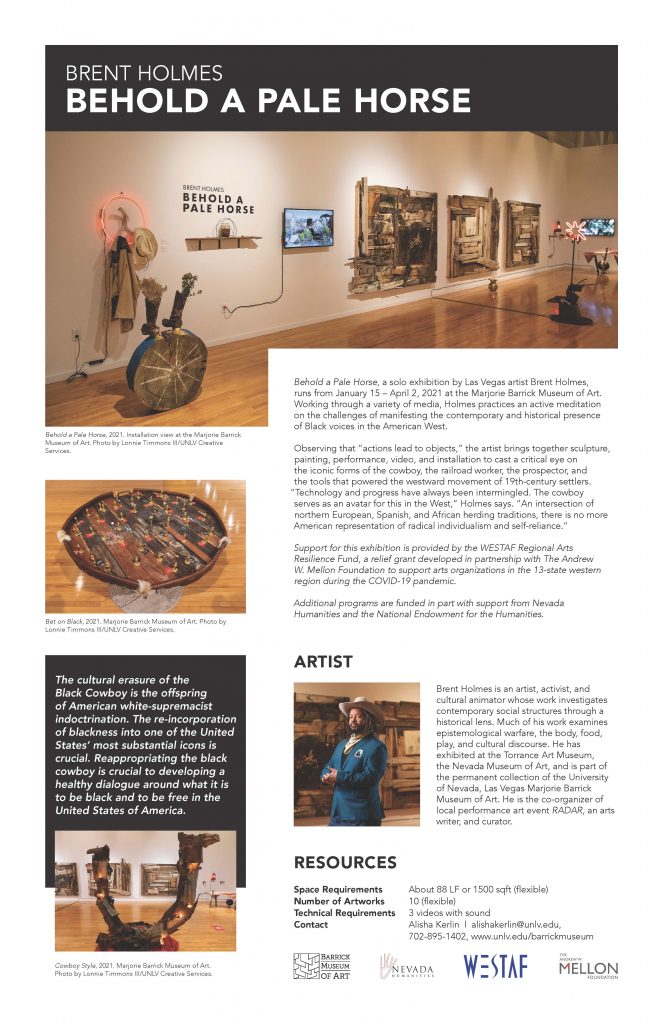 Behold a Pale Horse, a solo exhibition by Las Vegas artist Brent Holmes, runs from January 15 – April 2, 2021 at the Marjorie Barrick Museum of Art. Working through a variety of media, Holmes practices an active meditation on the challenges of manifesting the contemporary and historical presence of Black voices in the American West.
Observing that "actions lead to objects," the artist brings together sculpture, painting, performance, video, and installation to cast a critical eye on the iconic forms of the cowboy, the railroad worker, the prospector, and the tools that powered the westward movement of 19th-century settlers. "Technology and progress have always been intermingled. The cowboy serves as an avatar for this in the West," Holmes says. "An intersection of northern European, Spanish, and African herding traditions, there is no more American representation of radical individualism and self-reliance."
Support for this exhibition is provided by the WESTAF Regional Arts Resilience Fund, a relief grant developed in partnership with The Andrew W. Mellon Foundation to support arts organizations in the 13-state western region during the COVID-19 pandemic.
Additional programs are funded in part with support from Nevada Humanities and the National Endowment for the Humanities.
Artist: Brent Holmes is an artist, activist, and cultural animator whose work investigates contemporary social structures through a historical lens. Much of his work examines epistemological warfare, the body, food, play, and cultural discourse. He has exhibited at the Torrance Art Museum, the Nevada Museum of Art, and is part of the permanent collection of the University of Nevada, Las Vegas Marjorie Barrick Museum of Art. He is the co-organizer of local performance art event RADAR, an arts writer, and curator.
Space Requirements: About 88 LF or 1500 sqft (flexible)
Number of Artworks: 10 (flexible)
Technical Requirements: 3 videos with sound
Contact: Alisha Kerlin alishakerlin[at]unlv[dot]edu, 702-895-1402, unlv.edu/barrickmuseum