IAIA Museum of Contemporary Native Arts' (MoCMA) traveling exhibition program offers thought-provoking, engaging exhibitions featuring works by leading artists and addressing current issues.
Exposure: Native Art and Political Ecology
Exposure: Native Art and Political Ecology documents international Indigenous artists' responses to the impacts of nuclear testing, nuclear accidents, and uranium mining on Native peoples and the environment. The traveling exhibition and catalog give artists a voice to address the long-term effects of these man-made disasters on Indigenous communities in the United States and around the world. Indigenous artists from Australia, Canada, Greenland, Japan, Pacific Islands, and the United States utilize local and tribal knowledge, as well as Indigenous and contemporary art forms as visual strategies for their thought-provoking artworks.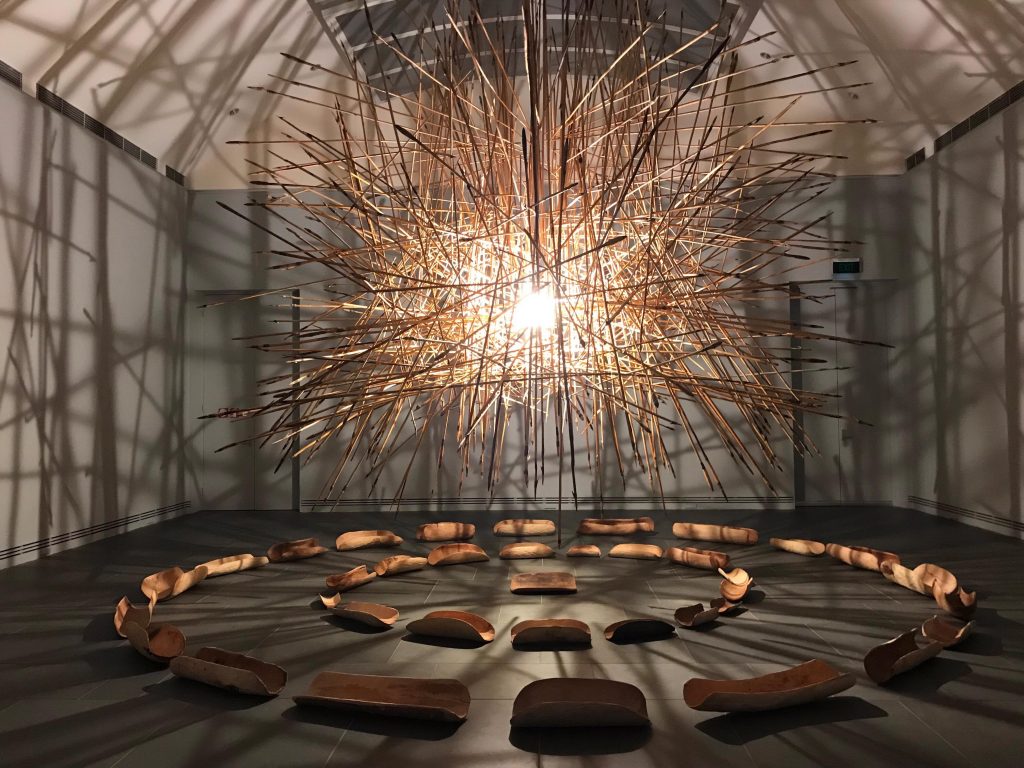 Exhibition Size and Availability
The exhibition size is 365 linear feet (2127 square feet) and it is available for booking periods beginning March 1, 2022. (The exhibition size is negotiable.)
August 13, 2021–January 23, 2022: IAIA Museum of Contemporary Native Arts )
March–May, 2022: Available
July–September, 2022: Available
Provided with the Exhibition
Approximately 45 works of art
Didactics: wall panels (section panels) and object labels, digital labels with information on featured artists, and an audio tour (MP3 file format)
A set of images for public relations, advertising, web, and educational uses, and five (5) complimentary copies of the accompanying exhibition catalog (additional copies available)
Exhibition Requirements
Wall-to-wall Fine Arts insurance and certificate of insurance
Pedestals for sculptures, with or without vitrines as required by MoCNA
Trained art handlers for installation and de-installation
Standard facilities report
24-hour security surveillance, and security guards when the exhibition is open to the public
Temperature and humidity controls
Dimmable lighting is required and works may not be exposed to direct sunlight
Members of the public may take photographs or make videos for personal, non-professional use without flash, tripod, or selfie-stick
Shipping
Shipping Cost: Exhibitor pays for incoming shipping
Exhibition Fee: $15,000 (negotiable)
Contact
To inquire further about the availability of Exposure: Native Art and Political Ecology or to receive a prospectus and checklist for this traveling exhibition, contact IAIA Museum of Contemporary Native Arts (MoCNA) Chief Curator Manuela Well-Off-Man at manuela.well-off-man@iaia.edu.