The Halsey Institute of Contemporary Art is thrilled to announce a new traveling exhibition entitled DO or DIE: Affect, Ritual, Resistance. Featuring work from rising artist Fahamu Pecou, DO OR DIE was developed by our institution in collaboration with the Michael C. Carlos Museum at Emory University.
Fahamu Pecou is profoundly involved in exploring the state of Black existence – life and death – today. Violence in our society is endemic and pervasive, with Black bodies disproportionately affected. In the midst of this Pecou asks, "Under looming threat of death, how might we inspire life? Through what mechanisms could we resist the psychological violence and despair inspired by the threat of violence and usher in hope?" Or how might art serve as a "space of resistance?"
DO or DIE: Affect, Ritual, Resistance serves as one artist's action in opposition to these overwhelming societal forces, seeking instead to elevate and re-contextualize Black life and death. Through performance, painting, drawing and video Pecou reframes our view, incorporating references from Yoruba/ Ifa ritual to cultural retentions of hip-hop to the philosophy of Négritude, and through this shapes a story that seeks to affirm life via an understanding of the balance between life and death.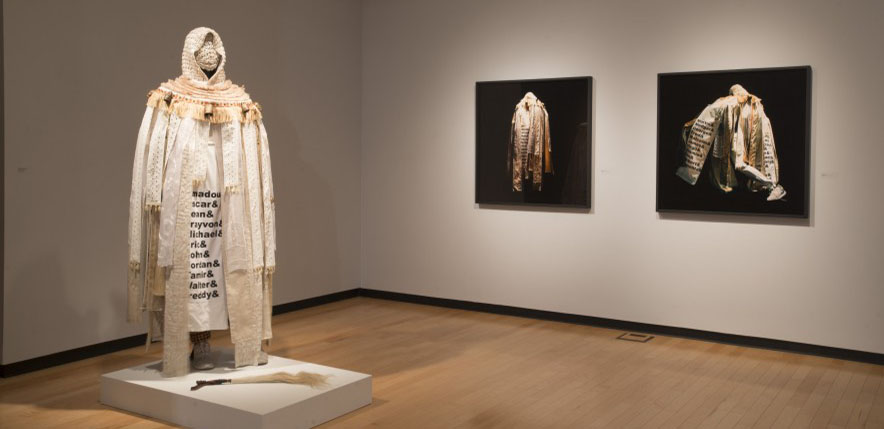 About Fahamu Pecou:
Fahamu Pecou is an Atlanta-based visual artist and scholar whose works combine observations on hip-hop, fine art and popular culture. As Pecou states: "My work seeks to provide a crucial intervention in contemporary representations of Black masculinity. I began my career experimenting with the branding strategies employed in hip-hop music and entertainment. These experiments ultimately led me to question not only the stereotypes engendered by the commodification of hip-hop culture, but more, to consider how the influence of historic and social configurations of race, class and gender impact and inform these representations."
Pecou's work is featured in noted private and public national and international collections including: the new Smithsonian National Museum of African American Art and Culture, Societe Generale (Paris), Nasher Museum at Duke University, The High Museum of Art, Paul R. Jones Collection, Clark Atlanta University Art Collection and Museum of Contemporary Art Georgia.
Pecou and DO or DIE have garnered recent praise in the cover feature of Atlanta's Creative Loafing magazine. Pecou was reviewed by Art in America early in his career, and was profiled in Ebony magazine last year.
Bring DO or DIE to your institution:
DO or DIE: Affect, Ritual, Resistance is currently on view at the Halsey Institute of Contemporary Art until October 8, 2016. This exhibition will be available beginning November 2016 for eight week tours for a $6,500 participation fee plus one-way shipping. The fee includes educational materials and label/text panels in digital format.
Number of Works: 17 (11 paintings, 4 photographs, 1 multimedia costume, 1 video projection)
Dimensions: Varied
Space Requirement: 200-350 linear feet
Participation Fee: $6,500 for eight week bookings
Shipping Costs: Venue pays for incoming shipping
Insurance: To be carried by venue
Exhibition Signage: Label and wall text information in digital format
Supporting materials: Educational brochure
Artist is available for lecture
Additional programmatic offerings are available at extra cost to host venues. For the exhibition's debut at the Halsey Institute, Pecou organized an installment of interSessions, his series of curated conversations between figures from the arts and the hip-hop community. This session featured Killer Mike, an American hip-hop recording artist and activist, and Dr. Arturo Lindsay, an artist and scholar who conducts ethnographic research on African spiritual and aesthetic renditions in contemporary American cultures. Our institution had phenomenal turnout and feedback for this event, which complemented the exhibition in a meaningful way for our visitors.
To see more, please visit the traveling exhibition's website:
http://halsey.cofc.edu/exhibitions/traveling/do-or-die-affect-ritual-resistance/
If you would like to learn more, please contact:
Katie McCampbell
Manager of Traveling Exhibitions & Special Projects
Halsey Institute of Contemporary Art 
161 Calhoun St., Charleston, SC 29401
mccampbellkg@cofc.edu
843.953.5652 | www.halsey.cofc.edu