Jay Critchley_ImageSheet_FINAL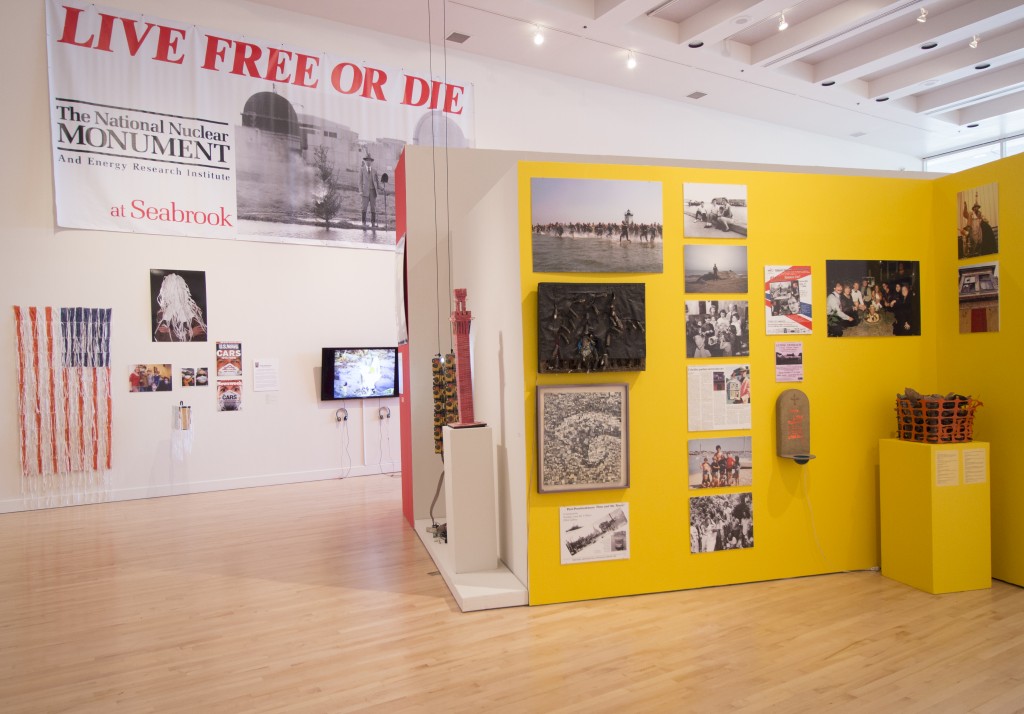 Traveling Exhibition Fact Sheet: Jay Critchley, Incorporated is a 30-year survey of the work of internationally renowned activist artist and political satirist Jay Critchley. Known for his humorous conceptual and performance artworks that address controversial social and political issues, Critchley has been at the forefront of addressing governmental power, corporate greed and their impact on the environment, health, sexuality and public discourse. The exhibition originated at Provincetown Art Association and Museum, MA, and travels to the University Galleries at Florida Atlantic University (FAU), Boca Raton.
Critchley often founds corporations to structure his work, using the very tactics used by marketing specialists—logos, trademarks, press releases, media conferences, newspaper ads, public appearances and billboards. The exhibition features these decades-long projects along with the vast media attention they have received.
The exhibition culls together 125 objects including photographs, videos and posters documenting his performative work, and small sculptures and objects.
Critchley lives and works in Provincetown, MA, where he has been involved in community building and activism for over 30 years. He founded and directed the Provincetown Community Compact, an advocacy and philanthropic organization that supports the Provincetown arts community, and the annual event Swim for Life, now in its 29th year, which has raised $4 million for HIV/AIDS, women's health and the community.
Artist Website: http://jaycritchley.com
Category: Art, Political Art, Activist Art
Reviews: Suzanne Volmer, "Provincetown, Massachusetts: Jay Critchley – Provincetown Awrt Assicoation and Museum," Sculpture magazine, December 2015; Charles Guiliano, "Jay Critchley, Incorporated," Berkshire Fine Arts, March 6, 2015; Susan Rand Brown, "Provincetown Art Association & Museum Tributes Artist-Activist Jay Critchley with Major Show," Wicked Local Provincetown, May 7, 2015; Debbie Forman, "Jay Critchley Elevates Tweaking Corporate America to Art Form," Cape Code Times, May 7, 2015.
Curator: Bailey Bob Bailey
Traveling exhibition contact: W. Rod Faulds, University Galleries, Florida Atlantic University
Number of works: Approximately 125
Contents: 25 framed photographs/graphics/original art, 70 foam core mounted photographs/graphics (ranging in size from 13 x 19" to over 48 x 72"); 30 small sculptural objects (venues provide pedestals/cases), video content (venues provide flat-screens or). A sample press release, exhibition label text, checklist, and introductory text panel will be provided digitally.
Optional items: In association with the FAU presentation of the exhibition, 2 sculptures/performance spaces, Outhouse and Septic Skirt, were produced and are available for travel.
Security: Medium
Space requirements: 200 – 250 running feet; 1800 – 2400 square feet
Display requirements: 5 video screens and projectors; 8 – 12 pedestals without Plexiglas vitrines; 4 medium sized (24h x 24 x 40 vitrine size) case with Plexigas vitrines
Lectures: Artist available
Catalogue: A 76-page catalogue with color illustrations throughout and contributions by curator Bailey Bob Bailey, W. Rod Faulds, Christopher Busa, and Tim Norris was produced in association with the exhibition's 2015 opening at the Provincetown Art Association and Museum. The catalogue is available on i-Books. The print version is in limited supply. Depending on the number of venues, reprinting the catalogue is possibile/negotiable.
Insurance: Borrower to provide (approximate insurance value $200,000)
Shipping: Borrower responsible for outgoing shipping
Rental Fee: $7500 for 5 – 7 weeks; negotiable
Download the image sheet here.
UNIVERSITY GALLERIES • Florida Atlantic University, Boca Raton
www.fau.edu/galleries • 561-297-2661 • wfaulds@fau.edu