The Art of Loongkoonan
An exhibition offered by the Kluge-Ruhe Aboriginal Art Collection of the University of Virginia and the Mossenson Art Foundation, Perth, Western Australia.
Available dates: September 2016-December 2017.
Space requirements: 800-1000 sq. feet, but can be compressed by variable installation options.
Rental Fee: $4,000.00, plus insurance. Fee includes domestic freight, and 1000 catalogue booklets with your venue and logo included.
For more information, please contact: Margo Smith, Director, Kluge-Ruhe Aboriginal Art Collection,mws2d@virginia.edu, 434 244-0234.
Exhibition Description:
Yimardoowarra: Artist of the River is a career survey of the Aboriginal Australian elder Loongkoonan. At 105 years of age, Loongkoonan is one of Australia's oldest living contemporary artists. Loongkoonan only took up painting in her mid-90s, embracing it with originality, confidence and dedication.
The paintings of Loongkoonan are intricate depictions of her homelands in remote Western Australia.  Her work has been exhibited to acclaim throughout Australia, but this exhibition represents her first major international exhibition. The exhibition includes twenty-six of Loongkoonan's paintings, ranging from her very first work to her most accomplished masterpieces.
As an important matriarch of the Nyikina people—and one of the last speakers of the critically endangered Nyikina language—Loongkoonan's paintings are important chronicles of the unique Aboriginal Australian understanding of place. Yimardoowarra: Artist of the River charts the extraordinarily dense late-life career of an indigenous woman who has brought a century of memory, tradition, and spirituality to her artwork.
The exhibition is accompanied with an illustrated 16-page catalogue booklet, featuring an essay by curator Henry Skerritt.
Loongkoonan bio
Loongkoonan was born at Mount Anderson Station near the Fitzroy River. In her early life, she worked as a cook and station hand, mustering sheep and cattle. Loongkoonan is an important matriarch in the Nyikina community, and is revered as a custodian of language, culture and Law. Her shimmering depictions of "bush tucker" have been exhibited throughout Australia, including the Telstra National Aboriginal and Torres Strait Islander Art Awards, the Wynne Prize, the Blake Prize and the 2016 Adelaide Biennial. In 2006 Loongkoonan was awarded first prize in the Redlands Art Award, and in 2007 she was awarded the Indigenous award at the Drawing Together Art Awards at the National Archives of Australia. Her works are held in many important public collections, including the Australian Parliament House Collection, the Art Gallery of Western Australia, and the Kluge-Ruhe Aboriginal Art Collection at the University of Virginia. Yimardoowarra: Artist of the River is the first career survey of this extraordinary woman, featuring works from each stage of her remarkable career.
Curator Biography
Henry Skerritt is a Pittsburgh-based curator and art historian. He has curated or consulted on numerous exhibitions in the U.S. and Australia, including No Boundaries: Aboriginal Australian Contemporary Abstract Painting (Nevada Museum of Art, touring 2015-2016) and Marking the Infinite: Contemporary Women Artists from Aboriginal Australia (Nevada Museum of Art, touring 2016-2019). Skerritt has presented on Aboriginal art at museums across the US, including the Albright-Knox Gallery, Buffalo; Nevada Museum of Art, Reno; Peréz Art Museum, Miami; and the Toledo Museum of Art. His writings have appeared in numerous exhibition catalogues, journals and magazines, including recent catalogues for exhibitions at Harvard Art Museums and the Hood Museum, Dartmouth. Based in the USA, Skerritt is available for education and public programming surrounding Yimardoowarra: Artist of the River.
Downloads:
Yimardoowarra Exhibition Checklist
Images of exhibition at the Embassy of Australia, Washington DC: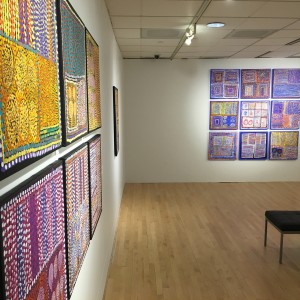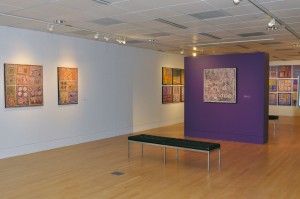 News and reviews:
http://nytlive.nytimes.com/womenintheworld/2016/02/05/105-year-old-australian-aboriginal-artist-honored-with-u-s-exhibition/
http://www.washdiplomat.com/index.php?option=com_content&view=article&id=13170:australian-aboriginal-elder-began-painting-career-in-her-mid-90s&catid=1542&Itemid=428
http://mashable.com/2016/03/10/loongkoonan-artist/#eNwqD0eFPiqi
http://www.dailymail.co.uk/news/article-3461508/Loongkoonan-105-year-old-Aboriginal-artist-exhibits-Washington.html