RICK SHAEFER: The Refugee Trilogy
A Monumental Response to the Refugee Crisis
at Fairfield University Art Museum's Walsh Gallery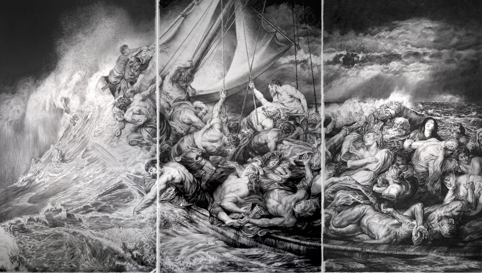 Rick Shaefer, Water Crossing, 2016. Charcoal on vellum. 96 x 165 inches.
Photo courtesy of the artist.
EXHIBITION DESCRIPTION
The Fairfield University Art Museum is pleased to present the inaugural exhibition of a monumental new series by artist Rick Shaefer created in response to the ongoing refugee crisis convulsing the globe. This three-piece suite is comprised of Land Crossing, dealing with the migration across foreign lands; Water Crossing, addressing the perilous journeys of refugees who take to the open seas; and Border Crossing, spotlighting the hostilities refugees face in seeking safe haven far from a violence-torn homeland. The trilogy employs the artistic lexicon of old master painting (specifically incorporating heroic figurative elements from works by Rubens and Géricault) to explore this contemporary crisis in a language both familiar and iconic. Such historical allusions underscore the tenacious persistence of this epic human tragedy throughout time, past and present.
In addition to the three triptychs, each executed in charcoal on vellum, the exhibition includes seventeen of Shaefer's preparatory drawings for the series.
Exhibition Programming:   This exhibition lends itself to multiple avenues of programming. Programs planned at Fairfield University in conjunction with this exhibition include an opening night lecture, "Rubens and the Art of Appropriation," by Stijn Alsteens, Curator, The Metropolitan Museum of Art;  a panel discussion, "The Syrian Refugee Crisis: Over Land and Sea," with Dr. Silvia Marsans-Sakly, Assistant Professor of History, Islamic World, Julie Whittaker '12, Founder, Amal Foundation (dedicated to providing higher education scholarships for refugees in their host communities), Wendy Christian, Associate Vice President, Marketing and Communication, Save the Children USA, and artist Rick Shaefer; a lecture by Dr. Lisa Brody, Yale University, "Dura-Europos: Exploring and Preserving Cultural Heritage in Roman Syria"; and a film screening of Salam Neighbor followed by a Skype conversation with the film's director, Chris Temple. An Artists Talk with Rick Shaefer and innovative South African playwright Brett Bailey, whose new work in progress, "Anctuary," is also a response to the current refugee crisis, completes the program.
Mobile App:   Audio clips were created by refugee and relocated youth, and their teachers, who found inspiration in Shaefer's work. The participating students attended the Ubuntu Academy, a summer literacy lab hosted by the Connecticut Writing Project at Fairfield University that brings teachers and students together to write. Listen to our mobile app at cuseum.com/fuam.
Rick Shaefer, in his studio, Land Crossing, 2016. Charcoal on vellum. 96 x 165 inches (triptych).
Photo courtesy of the artist.
Rick Shaefer, detail of lower panel, Border Crossing, 2016. Charcoal on vellum.
Photo courtesy of the artist.
EXHIBITION INFORMATION
Artist:  Rick Shaefer (http://www.rickshaefer.com/)
Curator:  Dr. Linda Wolk-Simon, Frank and Clara Meditz Director and Chief Curator, Fairfield University Art Museum
Organized by:  Carey Mack Weber, Assistant Director, Fairfield University Art Museum
Address:  The Walsh Gallery of the Fairfield University Art Museum, located in the Quick Center for the Arts on the campus of Fairfield University at 200 Barlow Road, Fairfield, Connecticut.
Linear feet:  120+ feet
Security:  Medium
Fee/Shipping:  $5,000 plus incoming and outgoing fine art shipping, along with wall-to-wall insurance
Number of works:  20, 3 charcoal drawings (triptychs) vellum mounted on wood, 17 framed drawings
Venues: Fairfield University Art Museum, Walsh Gallery: September 7 – October 22, 2016, Haggerty Museum, Marquette University, October 6, 2017 – January 14, 2018, Brigham Young University Art Museum, May 18 – September 29, 2018, available late Fall, Winter and Spring 2019, Hand Art Center, Stetson University, August 15 – October 15, 2019, also available Winter and Spring 2020.
Curricular connections:  Arab Studies, Current Affairs, Communication & Media Studies, Drawing, History, Humanitarian Studies, Islamic Studies, International Affairs/Relations, Painting, Philosophy, Politics, Psychology, World Literature, Art History
Contact information:  Carey Mack Weber, cweber@fairfield.edu, 203-254-4000 ext. 2499
Recent press:
Venü Magazine: https://issuu.com/venumagazine/docs/venu32 (pages 52-55)
Hartford Courant: http://www.courant.com/entertainment/museums-galleries/hc-0914-refugee-trilogy-fairfield-  20160913-story.html
Stamford Advocate: http://www.stamfordadvocate.com/entertainment/article/Shaefer-s-Refugee-Trilogy-debuts-with-9187006.php
RICK SHAEFER: The Refugee Trilogy, Fairfield University Art Museum, Opening Reception, 2016.